Group Information
| | |
| --- | --- |
| Last Activity: | 17 Months Ago |
| Group Leader: | convoy |
| Moderators: | joshpetersen152 |
| Submissions: | Open |
| Group Visitors: | 2,756 |
| Founded: | April 25th, 2013 |
Recently Added Wallpapers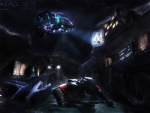 Halo 3
Uploaded by:
joshpetersen152
Date Uploaded: 6/4/13
Resolution: 1280x960
Downloads: 711
Comments: 1
Favorited: 2
Points: +3

Recent Discussions
No discussion threads have been created in this group yet!
Group Details
Welcome Spartans to UNSC's Halo Nation. If you liked Forward Unto Dawn you will be happy to know that there will also be a web series for the soon to come Halo 5.